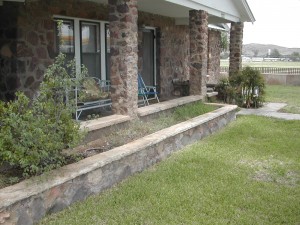 Note: I may someday include a few of these stories in a book and for that reason always appreciate your Likes, Clicks, Shares, Subscriptions, and Comments.
The photo on the left is the porch in Alpine, Texas where I read, write, and watch the world go by. It's surrounded by a lava rock house, which has stood, in one form or another, on this block since 1929. But it's not the only place I like to write. A wooden swing under a big North Texas Live Oak and a spot on any beach, especially Texas's own South Padre Island, demand that I pause and reflect.
As for the blog's features, the Amazon widget includes books I've read and liked, books that tie into the accompanying post, and one short story published in UNT's 2012 non-fiction journal.
The pictures on Straightfromtheporch.com's home page are, in order: sunset on Scenic Drive in Davis Mountains State Park; Twin Sisters from Highway 67/90; century plant in the shadows; the ever-present railroad, photo by Taylor Helfeldt Jones west of Marfa; moon set in early morning Alpine;  and a rare rain shower  from the top of Mt. Locke, home of McDonald Observatory.