Are libraries on their way out? When I attended a memorial service months ago, I started wondering and thinking about my nerdy relationship with libraries and their caregivers. The memorial service was for Mrs. Havenhill who was the librarian at my high school.  Yes, I guess my favorite classroom 'teacher' was the librarian.
Reagan County High School's library was then located at the end of a long linoleum-floored hall. When classes quietened after the bell, you could hear Mrs. Havenhill rhythmically walk the hall in her spiky high heels. Reagan County was a 200 student, four-grade high school in the heart of Texas's boom and bust country.
Mrs. Havenhill was also the newspaper sponsor. One year I edited the mimeographed school paper which amounted to a recitation of facts everyone already knew: who won what and when and where, stories populated by the same names over and over. All-district teams, fat stock show placers, and band contest news filled The Owl's Hoot. Plus a healthy gossip page, which I  learned later was decidedly not real journalism. (Whatever ever happened to the idea that gossip, even when true, isn't journalism?)
Mrs. Havenhill knew there was more out there in Texas high school journalism land, so she sent the staff to summer workshops at Trinity University where I learned just enough to be a self-important Jimmy Olsen junior journalist. And I was hooked enough to choose journalism as my college major.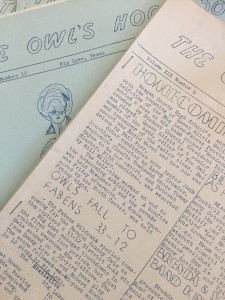 But back to the libraries of  an even earlier time when I rode my bicycle to the Reagan County Library, a small one-story structure near the courthouse. As a seventh-grader, I had my first job typing cards for the catalog. That librarian was a yellow-haired woman who kept a snuff can under the desk and a fat orange cat lurking  unseen. She wore opaque, flesh-colored stockings rolled up to below her knees and sat with legs splayed, reigning over bygone days of checking out books  by signing a card.  The card was a penciled record of everyone in town who'd read, or at least checked out the book . No secrets there.
Alpine's library, where I trekked during summers, was abysmal. Perhaps everyone in Alpine used Sul Ross's library because the county library was woefully inadequate. No more than books crammed in an old house, it was near the Brewster County courthouse.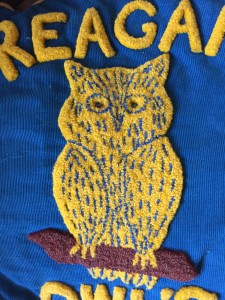 This bookworm was happy to get to high school and find the antithesis of the county's bestockinged librarian in the person of Mrs. Havenhill, tall and slim, always with those shoes. I once asked her to let me check out J. D. Salinger's Catcher in the Rye. It wasn't on the shelf because I guess it was one of those books. She reached into a drawer and handed me the book.  Neither flinching nor lecturing, and with dark eyes flashing, she said, "you asked for it."
I didn't understand Holden Caulfield, but I knew I was supposed to. Adolescent reading a book about another adolescent, right?  The problems of a New York teen were universal, but I couldn't get past the setting of a  prep school world.  Only as a grad student did I ever learn to appreciate the novel.
For high school graduation, Mrs. Havenhill gave me a copy of Khahil Gibran's The Prophet. Gibran was an American Lebanese poet who wrote simply of love and life. I've lost the book, but those 26 poems were a fine literary gateway between high school and college.
Thank you, Mrs. Havenhill.
Oh, and I'm not at all sure there was a real cat in the county library.  That was just gossip.